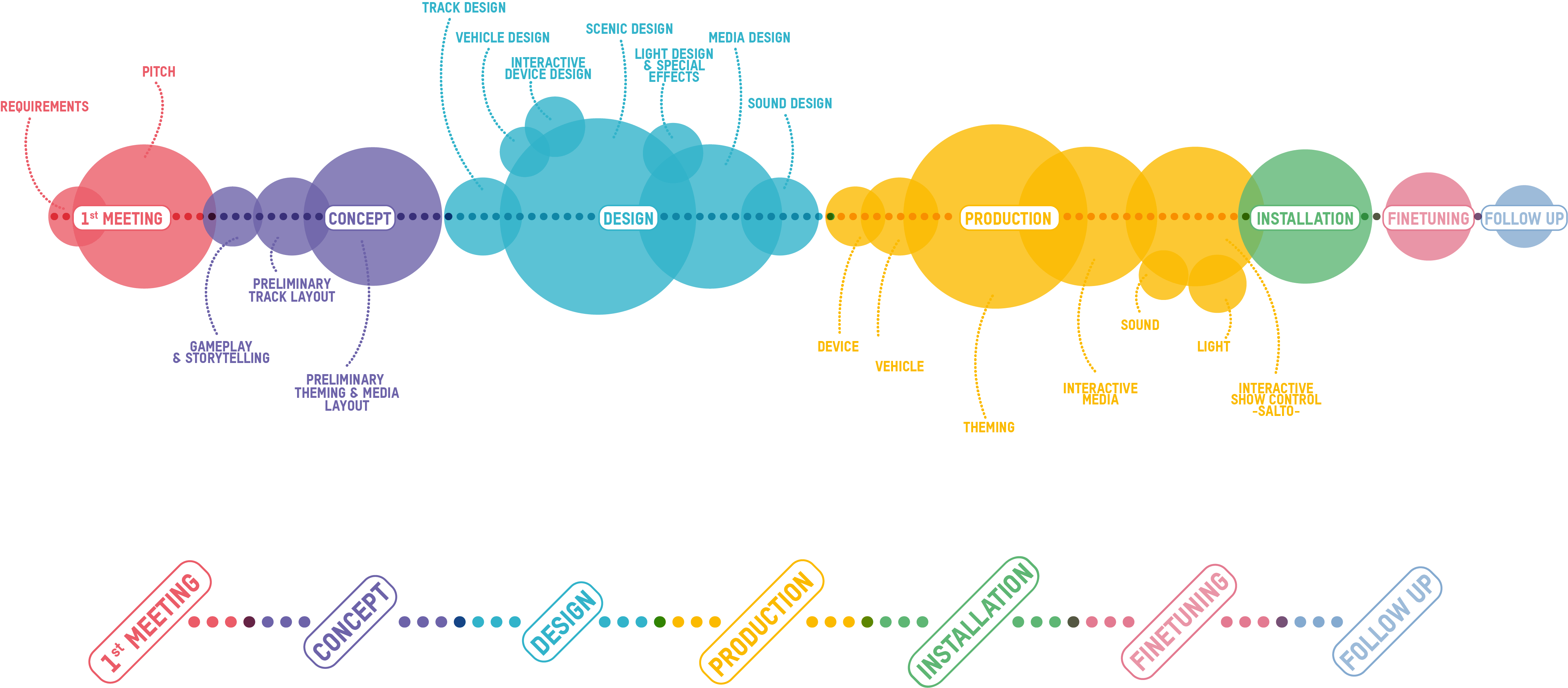 Every day we take pride and joy in being on the side of our partners and clients to create quality mediabased interactive attractions which unite friends and families. Our involvement can vary from one project to another, from providing "just" the technology to producing complete turnkey attractions. Yet in every project we always strive to achieve a perfect balance between technology and emotions, reflecting a long-lasting "sense of purpose". Sit back and enjoy the ride!
TURNKEY
Alterface may support your team for all the creative and production phases of a projet, from the 1rst meeting, when receiving your requirements to the final follow up of your projects.
The typical process as a turnkey provider embrases all the following steps:
• Initial design, including: pitch, story, moodboard, layout and initial budget.
• Final design package, including: the storyboard, layout, vehicles design, devices design, media design, scenic design, light design, audio design, technical designs and graphic design.
• Production, including: AV racks, vehicles, devices, electrical cabinets, computer racks, scenic, fxs.
• Installation: AV, vehicles, electrical show elements, FX, racks, media.
• Show programming.
• Show fine-tuning.
• Follow up and maintenance.
Some projects done as a Turnkey Provider
Dark rides
• Popcorn Revenge (2019, Belgium, Walibi)
• Bazyliszek legenda (2018, Poland, Legendia)
• Dark ride Heroes of Zahrapolis (2012, BElarus, Minsk)
• Maus au Chocolat (with the collaboration of Eric Daman, creative Director, 2011, Phantasialand, Germany)
Interactive Theatres
• Kinetorium (2018, France, Jardin d'acclimatation)
• Plants versus Zombies, Garden Warfare (2016, USA, Carowinds, Mi)
Rotating Platforms
• Haunted House (4 versions, from 2009 to 2012, USA, Norway, UK)
TECHNOLOGY PROVIDER
WHATEVER THE STORY, WE HAVE THE TECHNOLOGY
The Alterface team matches the devices and technology with attraction theme and audience.

Our system is versatile and can be adapted to any requirements, interconnecting and managing all ride components. We develop the optimum device design and type of interaction to enhance the experience. Alterface experts ensure that screens, physical sceneries, animatronics, FX, audio, vehicles and all other ride element are completey aligned and synchronized. Each of these options are compatible together. We will fine tune them to match your story.

Our technology is a means to just one end: entertaining visitors and making sure they can fully enjoy the ride!

We will select the appropriate tool to interact with the story: Pointing, targeting, pushing buttons,.. We have the devices that fits the attraction theme and the audience.