The many interactive faces of Alterface
Perhaps best known for their dark ride shooting technology, the award-winning Belgian firm Alterface creates a range of interactive tools and facilities for standalone ride and walk-through attractions, as well as entire park engagement technologies. If a designer or operator imagines an immersive environment, Alterface has developed, can adapt or will fashion a solution to bring that venue to life. "For themed venues we focus on experiences that transform visitors into actors," says Alterface CEO Stephane Battaille. "We emphasize family and group participation while keeping technology invisible. In any other age, what we do would be considered magic, and we hope that is true for the visitors who experience our products today."
Installations Everywhere
Powered by their SaltoTM show control system, Alterface's everpopular interactive rides – such as Popcorn Revenge at Walibi Belgium, Basilisk at Legendia in Poland, Ani-Mayhem at Warner Bros. World™ Abu Dhabi, and JUSTICE LEAGUE: Battle for Metropolis at multiple Six Flags parks – can be found worldwide.
And their catalog keeps growing. Three interactive experiences using Alterface technology launched in June of 2022. The new Lost Island Themepark in Waterloo, Iowa, opened with VOLKANU: Quest for the Golden Idol [See "Placing Lost Island" by Martin Palicki, InPark issue #91]. The red-hot dark ride was designed and produced by Sally Dark Rides using an Alterface interactive system. Working with the Sally Dark Rides team and Daniels Wood Land, Alterface also created the interactive system for the pirate- themed Treasure Hunt: The Ride, which will open soon on historic Cannery Row in Monterey, California.
Alterface interactive technology also drives 27 dark rides at LEGO Discovery Centres (LDC) around the world, with two more on the way. Just opened in Brussels, LEGO fans can now hop on the Imagination Express, where families collect points using the company's "magic" devices. Immersed in a captivating story, they roll through an oversized LEGO world into four interactive scenes: a giant bubble bath, down the drain, deep into a brick-built ocean and finally into outer space. Participants use Alterface's pointing technology to engage with media and physical targets in a fully seamless way. The 4,500 square foot (420 sq. m.) attraction features ETF Mystic Mover ride vehicles and media content by Pure Imagination Studios. "The focus of our work is to have media and theming combine so smoothly that you forget about the technology," says Battaille. "Finding ways to transport people physically and emotionally into a story-based experience is always the objective."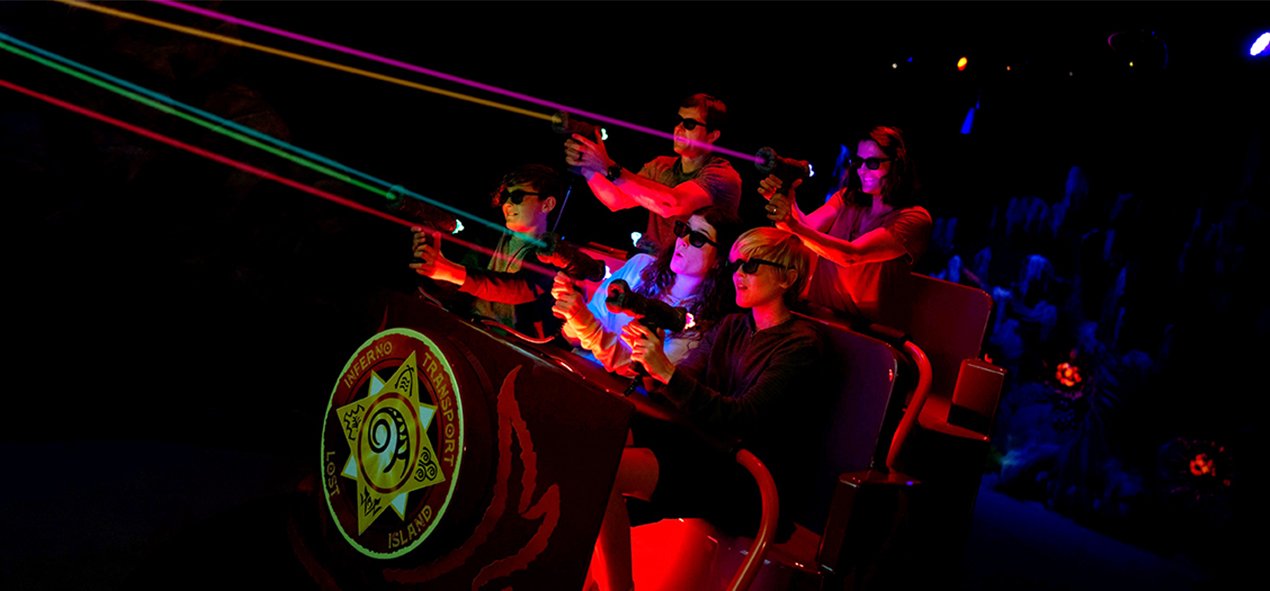 The third recently opened Alterface-powered project can be found at Fantasy Island Resort near Skegness in the UK. Harrington Flint's Island Adventures was designed by the park operator, Mellors Group, which assembled its own team of suppliers. As the story goes, the ride revolves around famed explorer Harrington Flint, who tries to thwart the evil Professor Crow's attempts to revive an ancient Mayan god of war and conquer the world. The resort had acquired five ETF Mystic Mover vehicles outfitted with Alterface shooting devices from a former dark ride in the UAE. Alterface successfully adapted those devices to the new ride's theme.
Focus on the future
Alterface's top quality, media-based interactive attractions unite friends and families in joint, story-based quests. The firm's involvement with a project can range from providing leading edge technology to working with clients from concept to complete turnkey installation.
"With every effort, we push toward that perfect balance between technology and emotional engagement and impact while remaining true to the client's narrative," Bataille emphasizes.
"In the modern age of technology in which we expect to be entertained at all times, designers and operators are increasingly seeking to create attractions and venues that keep visitors and participants more deeply engaged, and to deliver adventures that extend that engagement further into the pre- and post-show experience," says Bataille. Guests want to feel they are getting the most out of their day at the park, and beyond. The industry has sought to meet this demand in many ways, including enhanced architectural theming, shopping and food opportunities, roaming performers and costumed characters, and of course more immersive interactive experiences. The bar has been raised; the trend will continue, and the industry must continue to observe and innovate.
Action League™ sets the stage
Alterface has answered part of that ongoing challenge for new approaches with an innovative, preshow queue design for their Action League™ concept. While waiting in line, visitors are staged as observers and are converted to fans of the game in progress. This new tactic ensures that guests are involved, and are participating well before taking the game field. They can watch and get caught up in the action. They can learn the rules and purpose of the game. Guests shift from waiting in line into active role players, cheering on their color-coded team already competing in the attraction's arena.

Three turnkey theming and media packages have been developed for Action League™, and bespoke content packages (media, theming, background story) can be tailor-made to client specifications and theming requirements, ranging from purely shooting, game-oriented content to more immersive and storytelling-based gameplay.
Looking to the future, Bataille understands that the demand for longer, deeper, richer interactive immersion at theme parks and museums, aquariums and branding centers, visitor centers and zoos will only grow stronger. He notes that Alterface has met with designers and operators to discuss their visions of the future and found everyone had come to the same conclusion: something is desperately needed to further deepen and maintain contact with guests over longer periods. "We knew we had to find a way to answer those requests, to exponentially expand that connection to the guests."
The coming worlds of The Wander
To answer the call for that next generation of interactive experiences, Alterface created The Wander storytelling engine, a platform that empowers designers to intuitively design stories for multiple days of adventures, while managing thousands of players in real time. The user interface is easy to master for a creative team familiar with classic design tools. Story content can be displayed on new or existing technology across a wide range of venues. The Wander can power the full range of interactive elements (live actors, physical puzzles, shooting on a screen, motion tracking, etc.). Activity logs of visitors will oversee each individual's special status and their next adventure to discover. It will track changes in each player's world since their last visit and maintain a history of their actions in anticipation of future visits. Most important, the platform can "understand" the behavior of each visitor, work to improve their unique story and create additional tailored content.
"Projects with The Wander are underway," says Bataille. "Far beyond just walking from ride queue to ride queue, participants will be engaged with every step and at every turn. Surrounded by unseen interactive technology, they will be immersed for hours in the venue's narrative. The Wander platform offers designers and operators the power to create entirely new ways of delivering interactive experiences.
Fueled by passion
For more than 20 years, Alterface's unique combination of technical and creative talents has focused on creating that perfect balance between technology and emotions, on delivering solutions to what once seemed impossible interactive challenges. "Ultimately," Bataille says, "our interactive technology is a means to just one end: giving guests the most immersive, interactive experience possible."