Justice League, SixFlags Parks, US
INTERACTIVE DARK RIDE
#supplying interactive technology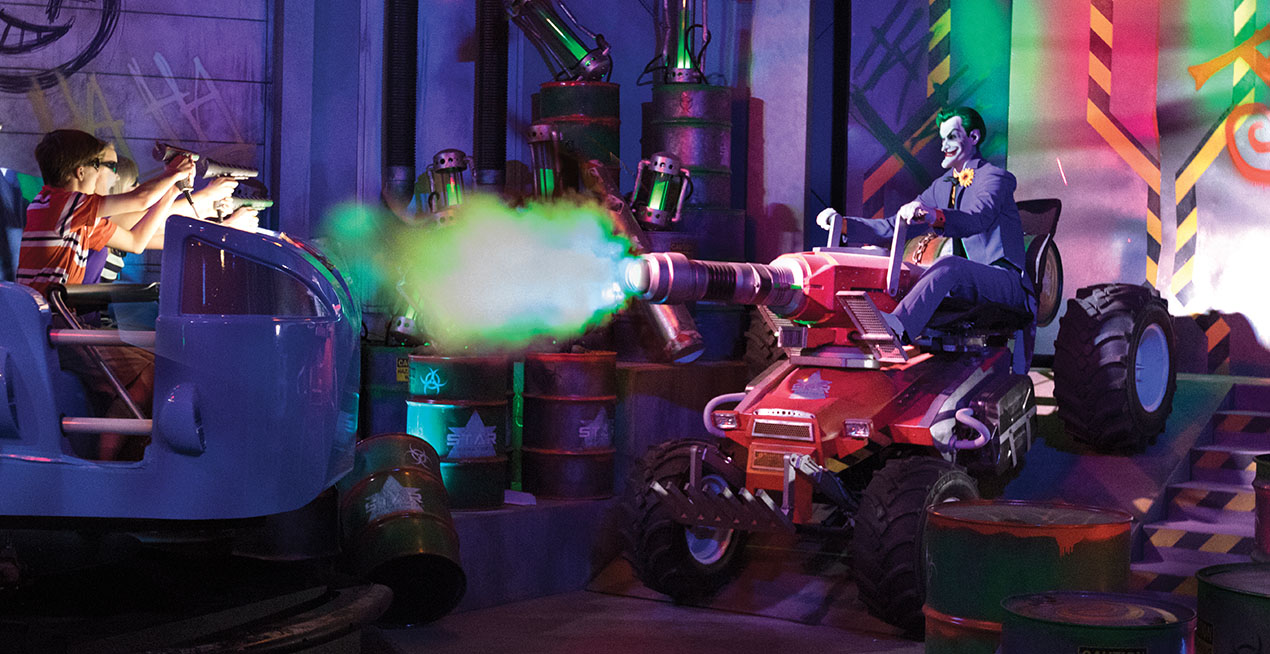 MIXED MEDIA DARK-RIDE, 2015 
Interactive fogscreens
High dynamic 6 DOF Motion
Projection Mapping on Animatronic
The customer requested to provide players with a strong visual feedback when shooting, amaze them with unique features and finally not let them breath again before reaching the Hall of Fame. Alterface developed and implemented the interactive system to defeat the evil Lex Luthor in the spectacular Justice League dark ride adventure.
The mixed-media attraction is built with stunning special effects whilst respecting guidelines from a demanding IP owner. Alterface implemented its know-how and top-notch technology featuring hand guns which seem like shooting tracing bullets, a unique interactive smoke screen and a meticulously carved timing of all sequences and vehicle movements by its show management system.
The attraction has been such a tremendous success that Six Flags has been rolling it out in all its major sites. The latest upgrade in Six Flags Magic Mountain includes immense toroidal screens, more advanced projection mapping and shooting on animatronics – including a fully interactive fogscreen.
KEY DETAILS
Design: Sally Corp
Media Studio: Pure Imagination
Ride Vendor: Oceaneering
Footprint: 1145 m² (12.325 ft²)
Throughput: 600 pph
Duration: 3,45 min
Interactive device: Portable device
Number of Vehicles: 8 Trackless vehicles with 3 DOF
Vehicle Capacity: 6 players per vehicle
Media: 3D
Number of interactive Scenes: 7
Number of screens: 6 interactive 3D screens
Interactive projection mapping: Yes
Physical targets: Yes
Hall of fame: Yes
Special feature: Interactive fog screen,
large scale 3D screens, 4K resolution
Alterface can create pure magic when it comes to interactive experiences. It has been a wonderful collaboration of creativity and technology that helped us create what was acclaimed to be the 'best new major attraction' in the amusement park industry.

John Wood,
CEO of Sally Dark Rides