Where technology meets creativity
By Martin Palicki
2021 marks a year of celebration for Alterface. The boutique, Belgium-based company, now celebrating its 20th anniversary, has established itself by designing turnkey attractions and creating technology solutions for everything from interactive tools to entire custom dark rides. Additionally, the team is celebrating milestones from three of their most important projects through the years.
15 years ago Alterface made a name for itself with its first Interactive Theater (Desperados). Five years later the company's first major dark ride, a custom project for Phantasialand in Germany, opened with Maus au Chocolat. And it's been just over five years since opening the first of seven extremely popular JUSTICE LEAGUE: Battle for Metropolis rides at various Six Flags parks. Many of these projects have been celebrated with awards [see sidebar].
Laurence Beckers, Creative Director at Alterface, credits the longevity of the company's many attractions to "a good mix of great content, powerful theming, well-designed interactivity and high quality."
"Alterface has always been about bringing the story alive and involving visitors in our narrative, using the best technology to serve the purpose or creating the technology when needed," explains Beckers. She was part of the original group that founded Alterface in 2001.
"When we started Alterface, we wanted to make interactivity natural, to hide technology and bring magic to guests. We started out working with gesture recognition," she says. "People were interacting with a screen by using their body and hands, not with a device." From those roots, Alterface has become a major supplier of interactive technology for theme parks and attractions around the world.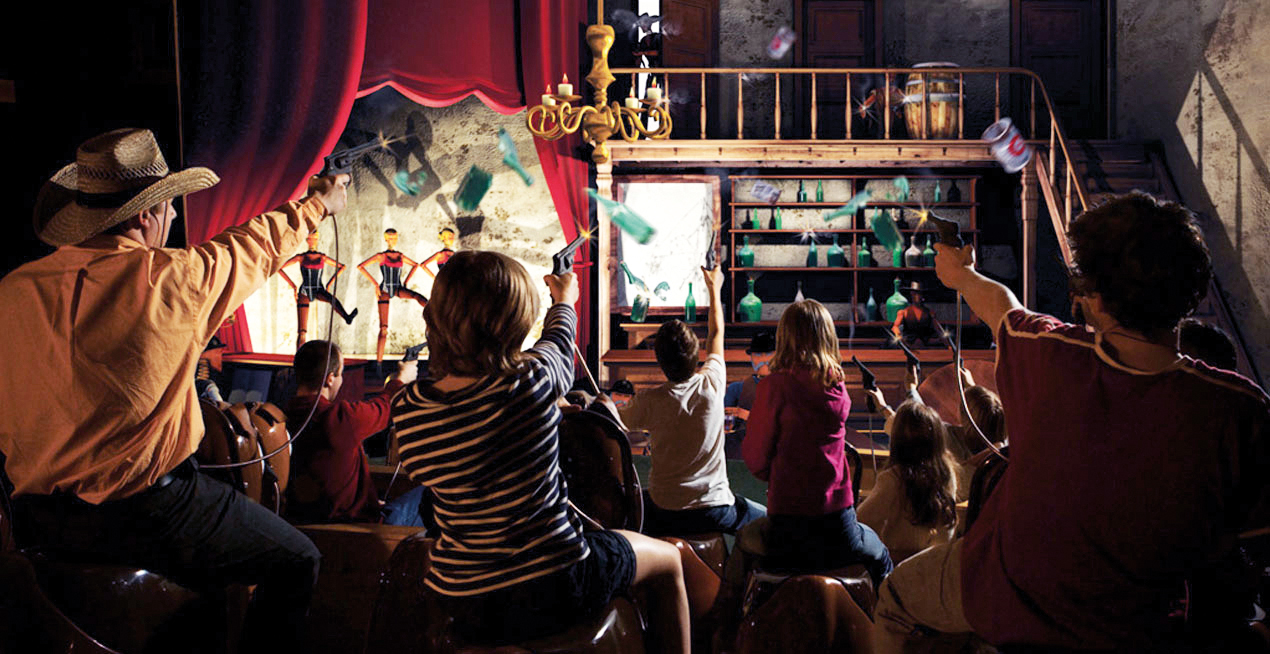 15 years of Desperados
The development of Alterface's Interactive Theater marked a key moment for both the company and the park industry. The turnkey attraction blended a large format theater with emerging interactive gaming technology and motion seats. First opened in 2006 at a 56-seat installation at BobbejaanLand in Belgium and at a 36-seat installation at Fraispertuis City, France, both attractions are themed to a country-western storyline and called "Desperados." The attraction puts guests on custom motion-seat saddles while a 2D film plays on a large screen in front of guests, who use pistols to shoot as if in a shooting gallery. Special effects in the theater highlight the action on the screen. The Desperados attraction combines an interactive group experience with a fun storyline within a compact footprint.
"Desperados has been a huge success all around the world and is one of Alterface's most enduring attractions," says Beckers. "I think this was the moment when we figured out our special Alterface formula: the story always comes first, and the interactivity and technology work to support that story."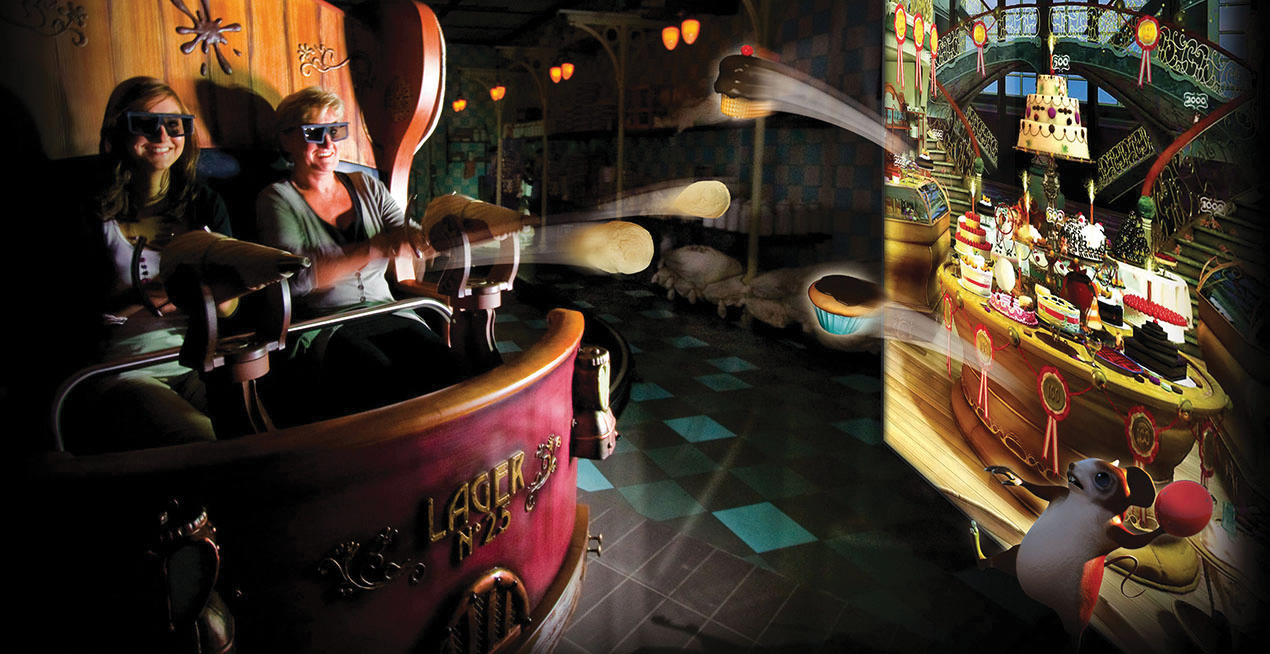 10 years of Maus au Chocolat
Alterface then built on this attraction concept to create their first major dark ride. Now instead of sitting in one theater shooting at a screen, guests rode vehicles past dozens of screens, each featuring a different game. Maus au Chocolat opened in 2011 at Phantasialand in Germany. The ride puts guests on vehicles that travel through a bakery overrun with mice. Vehicles pause in front of screens where guests trigger "pastry bags" that shoot frosting at the mice, frightening the critters away and earning points for their team. The ride remains one of the top attractions at the park.
"We incorporated a sly sense of humor into the attraction, which was fun for us to develop and makes the game entertaining for guests," says Beckers. "We worked with Phantasialand to take their concept and turn it into reality. It is a special blend of storytelling, technology and gaming."
Alterface CEO Stéphane Battaille was a Project Manager on the attraction while it was being built.
"At the time the ride was by far the largest attraction we had ever built. From an engineering standpoint, this project is my proudest achievement," says Battaille. "Our team created brand new systems to track scoring and data from multiple vehicles each experiencing the ride separately yet at the same time. It was a major advance from our previous projects."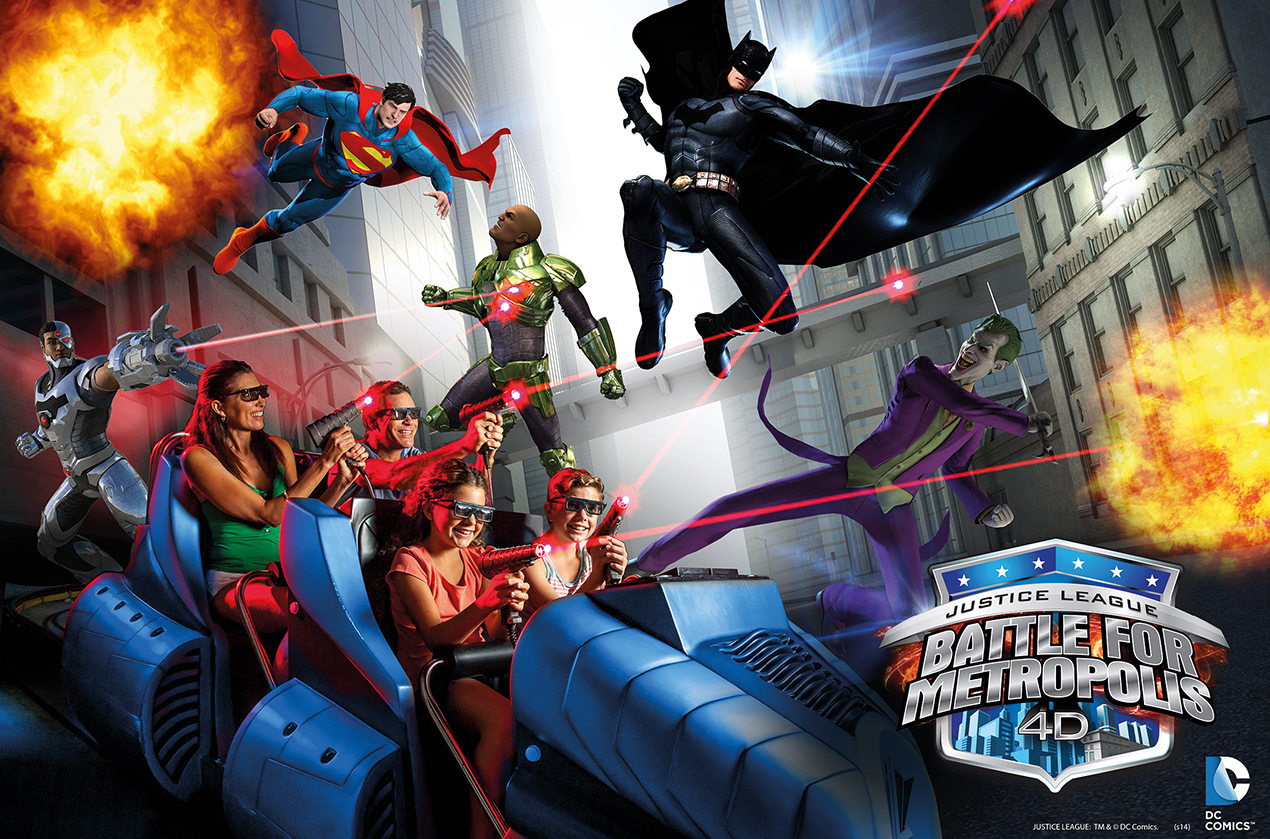 5+ years of JUSTICE LEAGUE: Battle for Metropolis
In 2015 Alterface provided interactivity and technical integration for the first two of what would turn out to be seven new attractions for the Six Flags theme park chain. Alterface was part of a dream-team of themed entertainment professionals working on JUSTICE LEAGUE: Battle for Metropolis for ride designer Sally Dark Rides who was contracted by Six Flags. The ride became an instant success, and Six Flags began developing additional versions of the ride in other parks across North America over the next several years. Each additional iteration of the ride incorporated different ride layouts, some went into existing buildings requiring different approaches to the attraction, and new characters and effects were added. The improvements culminated in the version built at Six Flags Magic Mountain (California, USA) receiving a TEA Thea Award for outstanding achievement in 2017, one of four Alterface attractions having received the high global honor of a Thea Award.
The Thea Committee noted the evolution of the attraction over time and described the ride as a "story-driven adventure for guests of all ages that blends dimensional and animated sets, animatronics, 3D video, special effects, projection mapping, laser stun-blasters, interactive targets, a scoring system, a musical score and more aboard custom motion vehicles."
The core of the attraction is a shooting system Alterface created that allows guests to take on villains from the DC Comics universe. Notably, the attraction allows riders to earn points by shooting at both images on the screen and objects within the built environment while traveling on motion-base vehicles.
"Alterface creates amazing interactive experiences," says Sally Dark Rides CEO John Wood. "Our collaboration together was the ideal mix of creativity and technology that helped make one of the best series of attractions in the amusement park industry."
According to Etienne Sainton, Product Manager at Alterface, part of JUSTICE LEAGUE's success across multiple installations is that the technology blends in with the attraction and is not competing against it, which he credits to Alterface's robust Research & Development (R&D) team. "We are dedicated to creating the most customized experience for each project," says Sainton. "Every improvement and new technology we have created provides more flexibility for the designers and a better experience for the visitor, resulting in successful and sustainable attractions for the park."
Additionally, JUSTICE LEAGUE was recognized for taking an interactive media-based attraction of the caliber typically found only in major destination parks and bringing it within reach of regional parks.
"The technology we helped bring to the JUSTICE LEAGUE attraction was only one component of a really fantastic attraction," explains Alterface Project Manager François Danhaive. "We are able to work effectively as a team member, but we are also able to create turnkey attractions as well, depending on what the client needs."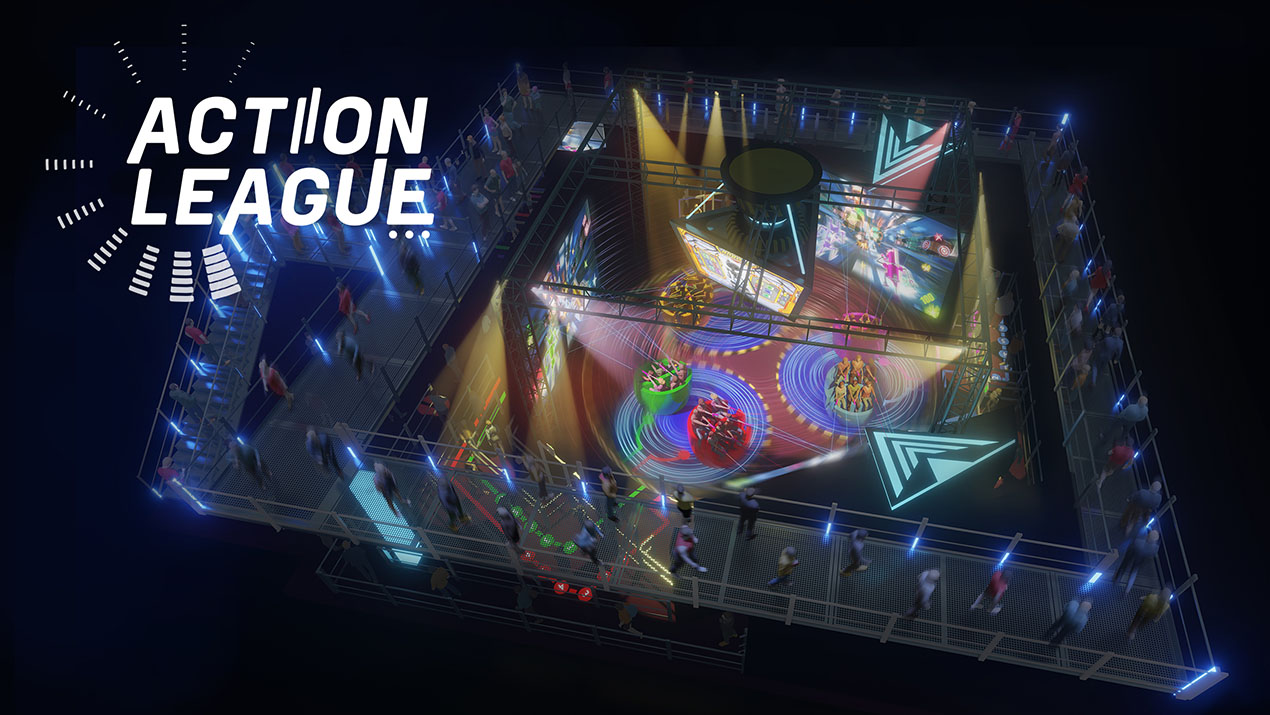 The newest interactive concept
Building on the company's 20 years of success, Alterface is proudly presenting their latest attraction concept during the CAAPA Beijing 2021 Expo (March 25-27, 2021). According to Sainton, Action League: The Interactive Revolution "combines the best of Alterface's many different attractions and technologies, like our time-tested Salto! show control system, concepts for rides, and the technology and skills to realize them."
"We are very excited about this new ride, which combines different levels of sensation and amusement into a completely new formula," says Battaille. "Parks and leisure venues will appreciate the attraction's high re-ride factor and impressive throughput."
Action League pits multiple teams against each other while utilizing a dynamic multi-axis ride rotation system to provide physical thrills. Screens are installed around the arena and the ride system alternates between rotation phases and shooting phases. Each shooting phase contains one game with two teams competing against each other per screen, using the shooting devices on their vehicle. Each game takes around 30 seconds. After that short duel, the vehicles move around for the next round of competition.
"Based on our experience with interactive rides and feedback from the market, we decided to develop this new tournament formula," explains Sainton. "It is a totally innovative approach that takes the competitive aspect of interactive attractions to an entirely new level."
Alterface delivers the ride as a turnkey solution, with Alterface's industry partners assisting with lighting, audio, decor and vehicles. The media content can vary, including existing or custom developed IP.
Looking forward to the future
With 20 years of successful projects and a series of rides and attractions around the world that have garnered awards and accolades, Alterface's CEO Battaille is anticipating a robust future for the nimble company: "We have such a great blend of creative talent and technological skill, allowing us to create engaging attractions and fresh concepts to meet the interactivity needs of an evolving entertainment landscape."
Alterface's home office is in Brussels, Belgium and has regional offices and partners around the world. Alterface welcomes operators, designers, storytellers, IP holders, museums and other potential partners to stop by their CAAPA booth (booth #3225) for a preview of the new Action League attraction, and to learn about additional technologies Alterface is currently working on.
Alterface awards
Alterface has received or worked on projects that received many industry awards, recognizing their innovation and achievement:
Sesame Street: Street Mission in PortAventura, Spain

Thea Award (2020)
European Star Award (2020)

Popcorn Revenge in Walibi Belgium

Thea Award (2019)
European Star Award (2019)
Park World Excellence Award (2019)

Bazyliszek in Legendia, Poland

Thea Award (2018)
European Star Award (2018)
Park World Excellence Award (2018)
Parkscout Plus Award (2018)

The Investiture of Gods in Qingdao Oriental Movie Metropolis, China

Asia Attractions Crown (2018)

Justice League: Battle for Metropolis in Six Flags Magic Mountain, USA

Thea Award (2017)
IAAPA Brass Ring Award (2015)

Maus au Chocolat

Parkscout Plus Award (2018)
European Star Award (2017)
Parkscout Publicum Award (2013)
Diamond Theme Park Award (2010)
Alterface Alterface installations
Visitors can enjoy Alterface immersive rides at these parks:
Walibi Belgium
Legendia
Qingdao Wanda
Warner Bros. World
Jardin d'Acclimatation
Phantasialand
Six Flags
Lego Discovery Centers
Carowinds
Ferrari World
IMG
Lotte World
Yomiuri Land
Hersheypark
Portaventura
…and many more
Author Bio:
Martin Palicki is the publisher and executive editor of InPark Magazine, a trade publication for the attractions industry based in the USA. www.inparkmagazine.com