Alterface blends storytelling and technology for dark ride attractions
By Gene Jeffers
Published in InPark Magazine, issue #97
Today's attractions that combine story with themed environments and interactive technologies would have once been seen as magic and sorcery. People interacting with props and media from a distance with a mere push of a finger or flick of the wrist was the stuff of legends and mythology: Merlin and his staff, Pinocchio coming to life, Fangshi wonder-workers and Aladdin's Genie; our cultures and stories are filled with magical tales. In hearing them, haven't we all secretly wanted that ability to have such powers? Interactive attractions can empower us all and continue to expand the capacity to offer increasing levels of "magic."
Looking back to what has been credited as the first interactive dark ride, El Paso at Bobbejaanland Park in Belgium, opened in 1988. Boasting Tex-Mex theming and walking-speed cars on rails, El Paso features light emitting, hand-held devices fashioned to resemble Colt .45 pistols. Riders aim at targets and hits trigger a variety of animatronics as the cars roll through themed corral, bar room, dancehall, and bank robbery scenes. Still in operation today, El Paso has remained true to its origins, offering a unique "forward to the past" interactive experience. A Mack Rides and Spaceleisure project, El Paso helped pave the way for today's explosion of interactive, immersive dark rides and attractions.
Leading the way
"Interactive attractions come a long way since El Paso opened the door," says Stéphane Battaille, CEO of Alterface, today one of the leading technology developers in the field. "From targeting systems to conveyance, from media presentation to effects and scoring, there are so many new and emerging technologies available for creating what can seem like magic." He should know.
Located about an hour south of Bobbejaanland, the interactive specialists at Alterface and their scenic and ride partners have created a wide range of dark ride and other interactive attractions around the world. Their design and engineering teams customize interactivity to specific storylines and formats to fit client and visitor preferences. They assemble bespoke shooting devices, gameplay approaches, a range of detection alternatives and an all encompassing show control software into seamless and cohesive attractions. These interactive attractions engage visitors and invite them to become active players in a story.
Making it happen
The "simple" task of moving people through a ride is not so simple when conceiving a rich, interactive experience. It has grown exponentially in variety and complexity. Options range from tracked, single-path to multiple tracked paths, to trackless paths – and finally, Alterface's innovative Erratic ride approach.
With Erratic technology, instead of a single linear story-path or sets of story-paths, the content and path will change depending on the players' actions, making each visit a unique experience.
Popcorn Revenge (Walibi Belgium) is an Erratic ride. The technology has been honored with multiple awards. Player devices have come a long way since that first interactive ride. They can be swivel-mounted or hand-held and tethered to the passenger vehicle or entirely portable. The devices do not have to be gun-shaped, but they must be intuitive and easy to use. For greatest effect, they must be designed to integrate perfectly within the storyline and theme of the attraction, whether resembling an antique firearm or a space ray gun, a magic wand or a firehose.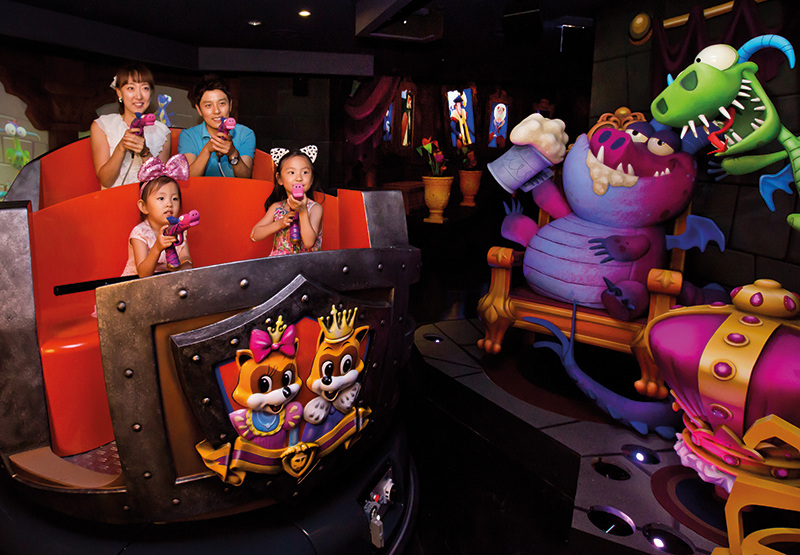 Point & Shoot at targets and score points
(Dragons Wild Shooting, Lotte World)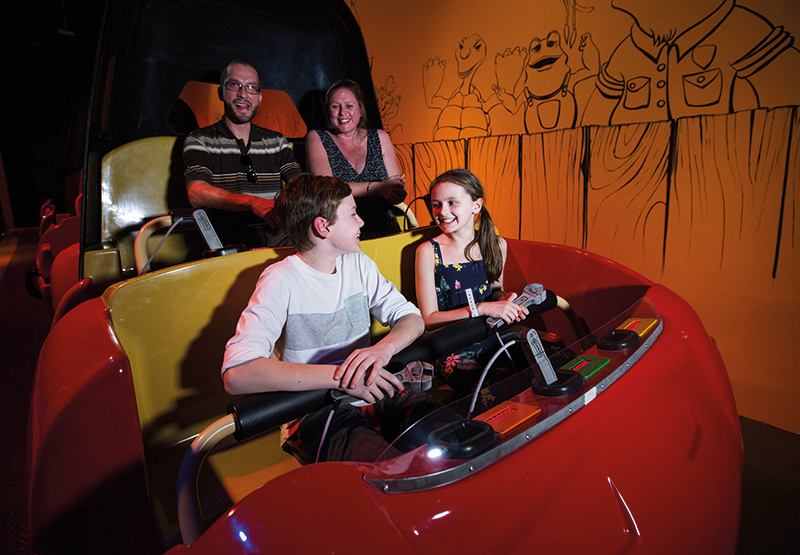 Drag & Drop by "grasping" an element and moving it to a new location
(Benno's Great Race, Ferrari World)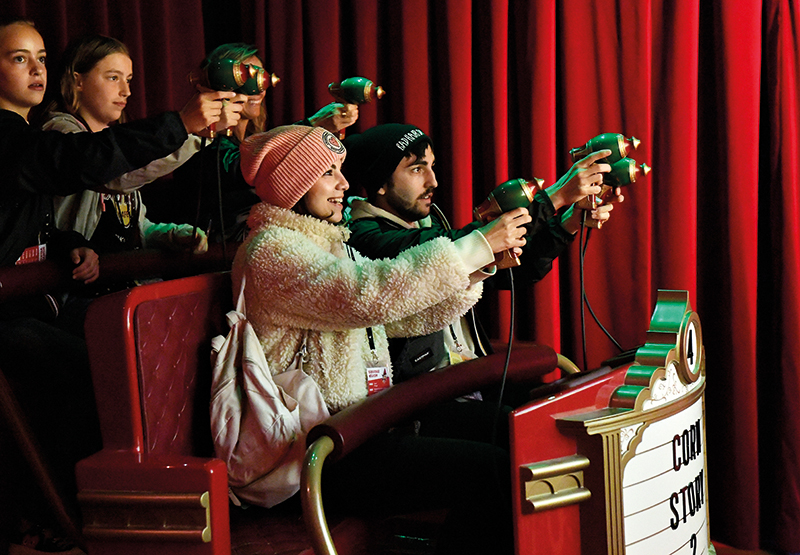 Collect unique targets; the more collected, the more points scored
(Popcorn Revenge, Walibi Belgium)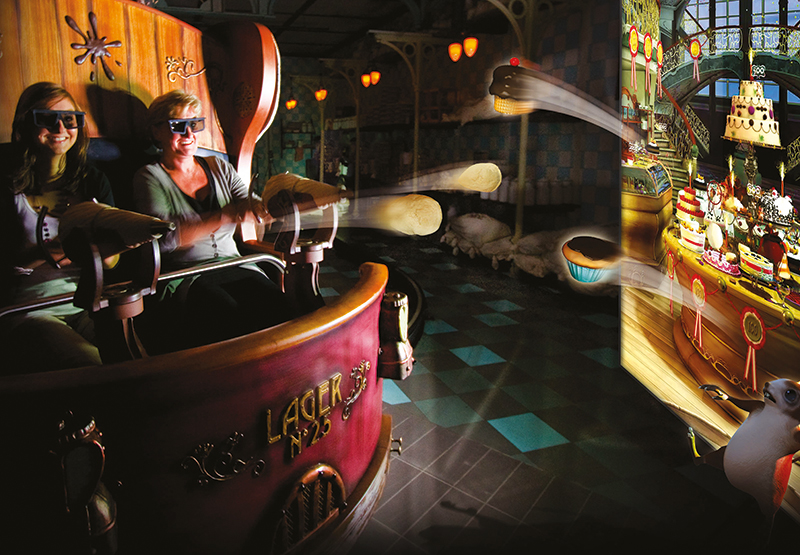 4D Shooter versions add dimension to the mix, creating new challenges
(Maus au Chocolat, Phantasialand)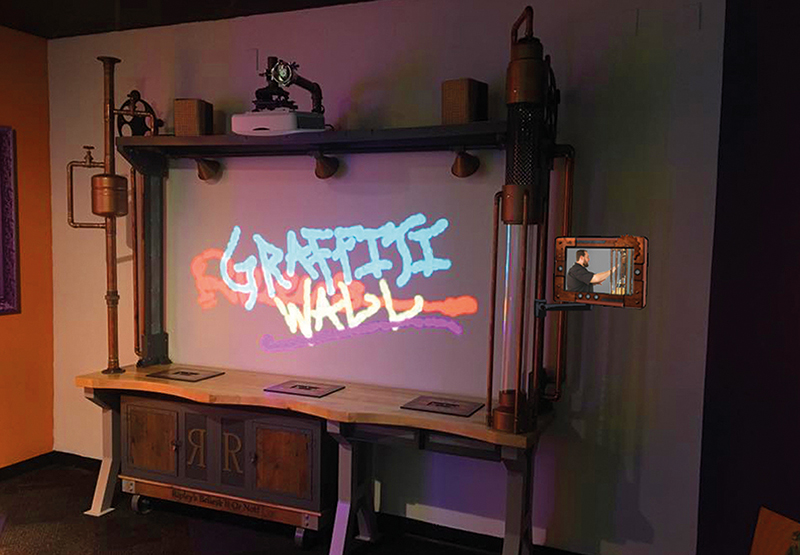 Paint layers colors on the viewing surfaces
(Believe It or Not, Ripley's Orlando)
Creating the magic
The unique proprietary technologies developed by Alterface make it possible to design environments in which players can interact with almost anything: physical scenery, animatronics, video mapping, fog screens, and – most challenging of all – video content. An Alterface system works with multiple video sources, with multiple points of view, and with very wide and curved screens.
Fully engaging players requires a well-planned and programmed show. These sophisticated attractions call for leading edge show control systems that are capable of managing all of an attraction's elements: video, audio, lights, vehicle motion, animatronics, fire, wind, smoke, water and more effects. "Alterface's own SaltoTM show control system ensures that everything happens on cue in response to the players' actions," says Battaille. "This is a challenge, as you don't know exactly how each player will react and impact the sequence of events."
Proper and immediate feedback in real time is important for any successful interactive experience. Players must know if their actions took effect. They receive awards through feedback or the triggering of a new target. Devices vibrate or light when triggered, displayed scores change with a hit, some kind of effect – wind, sound, lights, new screen, car moves – is launched.
The Wander
To expand interactive engagement to the next level, Alterface developed The Wander, a software-based solution that activates virtual/physical hybrid adventures within themed environments.
Thousands of visitors can play at a time with multiple days of content dynamically adjusted to their actions. Players can interact with live actors, solve physical puzzles, and affect other players' adventures anywhere in the venue.
Whether applied to existing or newly created worlds, The Wander can deliver always evolving personalized stories to each player.
The software suite contains dedicated tools for every step of the product life: creative design; technical design; implementation and installation; operation; and maintenance and supervision.
"The Wander is a quantum leap for the world of interactivity," Battaille says. "It sets the stage for more immersive worlds and future innovations."
For more than 20 years, Alterface has focused its unique combination of technical and creative talents on creating that perfect balance between technology and emotions, delivering solutions to what were once impossible interactive challenges.
In the end, these environments exist to spirit people away from their daily routines and into a time and place where they can experience the world in a new way. "You want players to feel they are inside an environment that responds to their actions – inside a living environment," says Bataille. "You encourage them to come back again and again by giving them extraordinary powers and bringing their adventures and stories to life."
Interactivity has indeed come a long way since El Paso first opened its doors, and at Alterface they plan on taking it much, much farther.